RAZER zGOLD & zSILVER
Pay Securely, Earn Rewards
Enjoy convenient digital content payments using Razer zGold and rewards redemption with zSilver.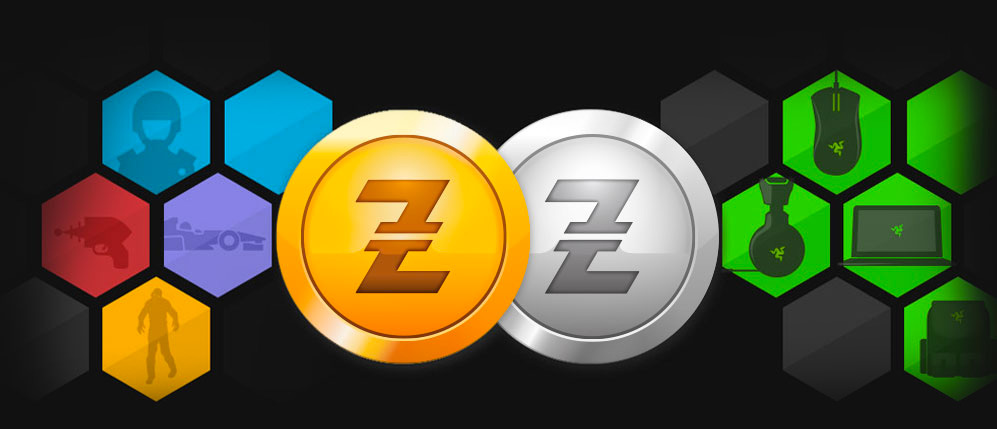 Pay with Razer zGold
Introducing Razer zGold - the most rewarding virtual credits for gaming. Every purchase made with zGold on Razer Game Store gets you the best deals and promotions, plus additional zSilver!
Manage all your zGold purchases with Razer zVault, the preferred virtual credits wallet for gaming.
Earn Razer zSilver
Razer zSilver is the virtual loyalty credits for gamers, that lets you redeem a full suite of rewards such as Razer products, digital gift vouchers, discounts and more!
Rack up zSilver with every purchase made on Razer Game Store, and get even closer to the rewards you love.
RAZER zGOLD DEAL OF THE MONTH

Get bonus zGold when you pay with zGold on RGS
Get Exclusive Rewards with Razer zGold on Razer Game Store.

At Razer, we like to give our users the best gaming experience and we do this by rewarding you guys with rewards that matter. This month, spend min. 3000 zGold in one transaction and receive 500 bonus zGold, ON TOP of the zSilver and other discounts you get when buying on Razer Game Store. Act fast: this promotion is only valid for the first 3,000 redemptions!

* Terms & Conditions
This promotion is valid only from May 5 2018 0000hrs ~ June 5 2018 2359hrs (GMT/ UTC), when users pay using Razer zGold exclusively.
Find out your local time for the promotion at https://www.timeanddate.com
Razer reserves the right to suspend or terminate any zVault or transactions which are found to be fraudulent or abusing the promotion.
Limited to first 3,000 redemptions and while stocks last.  
Total amount must be 3,000 Razer zGold or above in a single receipt to be eligible for Bonus Razer zGold.
Each zVault can only hold a maximum of 50,000 zGold (applicable to both paid and bonus Razer zGold types). No further zGold top up will be permitted thereafter.
All Bonus zGold issued for this promotion will expire within 30 days upon issuance date. No refund will be provided for Bonus zGold that have not been utilised after the expiry date.
No refund will be permitted for zGold which has been utilised by the user for purchases with Razer Partners. Please refer to the game merchants site for game refund policies.
Bonus zGold with the earliest expiry date will be deducted for any payment before Paid zGold will be utilised.
All purchased items/STEAM Keys issued are non-refundable, replaceable and cannot be encashed. If you encounter any issue with your STEAM Key code, please contact https://gamestore.razerzone.com/contact.html
If you encounter any issues with your game purchase, please contact Razer Game Store Customer Support https://gamestore.razerzone.com/contact.html. Alternatively, you may submit a support ticket to zVault.
Promotion terms and conditions are subjected to change at Razer's sole discretion without any prior notice.
Bonus Razer zGold are available while stocks last. All other terms and conditions apply.